Klarčeva House – Tourist Farmhouse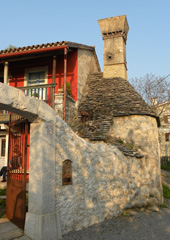 2 km from the sea, nestled in the heart of the Karst, in an oasis of peace and tranquillity, young in spirit but tied to ancient traditions that refer to the local area and the history of those who live there. Situated in a building from times gone by, with a stone roof and open hearth, the agriturismo offers comfortable rooms where guests can relax after spending the day discovering the treasures of the Karst.
The house is ideal for couples, families and groups of friends wishing to spend their holidays surrounded by nature, relaxing and discovering the local culture, which in this border region still retains its original identity.
The house welcomes guests in six rooms with private bathroom, equipped with modern amenities and elegantly furnished with original 19th century furniture, in line with the rustic style of the building but with a distinctive, modern slant.
Guests have access to the large shared kitchen, the lounge and the meeting points. The heart of the house is the open hearth. Wine, oil and cold cuts are just some of the typical produce that the Fabec family provides to ensure a stay filled with flavour, rest and goodness.